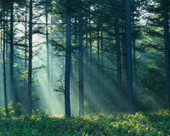 Let your Forest be Food: More Yields, Less Work
Saturday, December 8 , 1-3pm
$15 Garden Member, $20 Non-Member
Discover the benefits of a Food Forest with Garden Designer Brandy Hall! In the Southeast, the climax ecosystem is a forest.
Bill Palladino – MLUI's insight:
Love this idea. A bit more difficult up here in the Northlands.
See on decatur.patch.com