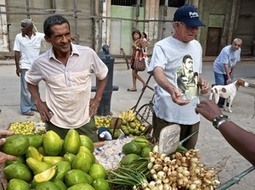 NPR (blog)In Farmer's Market, A Free Market Rises In CubaNPR (blog)This market, on the edge of Havana, only exists at night, appearing after sundown every day in a muddy vacant lot.
Bill Palladino – MLUI's insight:
Fascinating report from Cuba on the country's struggles with importing enough food AND growing enough food. Local Grassroots Food Movement to the rescue.
See on www.npr.org