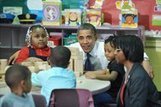 Leaders should recognize the potential negative impact of their personal brand's association with an organization's mission, and step away if they need to. By Nathalie Laidler-Kylander. (Leadership and Branding?
Bill Palladino – MLUI's insight:
Nathalie Laidler-Kylander brings up some terrific points about nonprofit branding in this useful article via the New York Times. She asks us to differentiate between a brand identity and brand image. She also suggests that we imagine how our personal brands influence the brand of the organization for which we serve. What is it that you are known for in your community? How is that translated into impact upon your organization, either as a board member, staff member, or volunteer?
See on www.nytimes.com