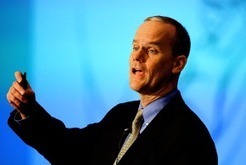 Chris Trimble, co-author of Beyond the Idea: How to Execute Innovation in Any Organization, describes three models for executing innovation initiatives.
Bill Palladino – MLUI's insight:
I was lucky enough to work with Chris Trimble and his co-author Vijay Govindarajan on creating the training tools and workshops for Leading Innovation. I received a signed copy of the new book in my mailbox last week and have just started to read it. Their research and insight have always been impeccable, and the results our clients saw from the efforts were impressive. If your company is interested in innovation and getting results, you must check Chris and VJ out.
See on www.cioinsight.com